Southport Extra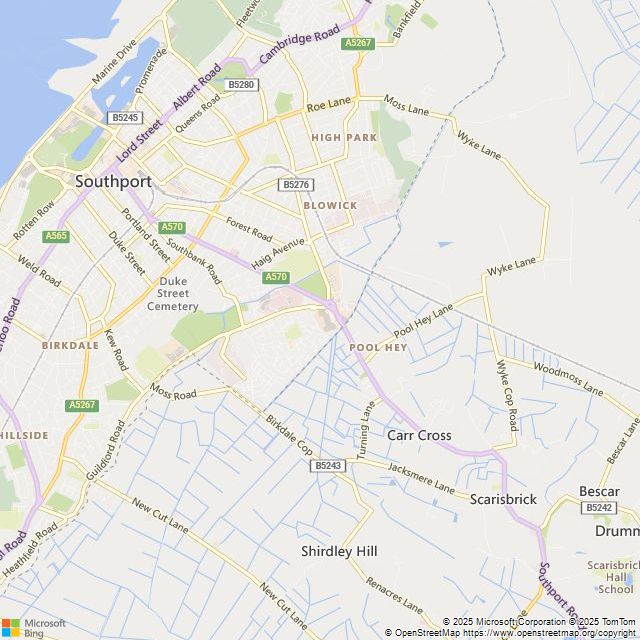 Get store directions
Address
Town Ln, Kew, Southport, PR8 5JH
Telephone
0345 677 9628
Opening Times
NHS, emergency service and care workers with a valid ID have priority access to our stores at any time. See below for priority hours for vulnerable and elderly customers.
Today

6am - midnight

Tomorrow

6am - midnight

Saturday 24 April

6am - midnight

Sunday 25 April

10am - 4pm

Monday 26 April

6am - midnight

Tuesday 27 April

6am - midnight

Wednesday 28 April

6am - midnight
Opening hours vary for some facilities and services. See below for more information.
General information
Free From
YO! Sushi
World Food
Asian
Polish

General

Other

Max Print Shop
Rug Doctor
Photo Booth - Digital Passport Enabled
Games
Gould Barbers
Electric Vehicle Charging Point
Timpson
Sells Gift Cards
Jet Wash
Tesco Pay+
Food Collection
Car Wash
Deposit Money
Coinstar
Momentum 99
Krispy Kreme

Our store has automatic doors fitted.
Facilities are available for people who are visually impaired. Including large print and braille.
Car parking available
Fully accessible toilets are available within our store.
Disabled parking facilities are available.
Defibrillator available in store
Wheelchair assistance is possible in our store.
Priority Hours
Today

No priority hours

Tomorrow

No priority hours

Saturday 24 April

No priority hours

Sunday 25 April

9am - 10am browsing only

Monday 26 April

No priority hours

Tuesday 27 April

No priority hours

Wednesday 28 April

9am - 10am
Facilities
Today

24 hours

Tomorrow

24 hours

Saturday 24 April

24 hours

Wednesday 28 April

24 hours
Today

9am - 6pm

Tomorrow

9am - 6pm

Saturday 24 April

9am - 6pm

Sunday 25 April

10am - 4pm

Tuesday 27 April

9am - 6pm

Wednesday 28 April

9am - 6pm

Today

6am - midnight

Tomorrow

6am - midnight

Saturday 24 April

6am - midnight

Sunday 25 April

10am - 4pm

Monday 26 April

6am - midnight

Tuesday 27 April

6am - midnight

Wednesday 28 April

6am - midnight

Today

6am - midnight

Tomorrow

6am - midnight

Saturday 24 April

6am - midnight

Sunday 25 April

10am - 4pm

Monday 26 April

6am - midnight

Tuesday 27 April

6am - midnight

Wednesday 28 April

6am - midnight

Today

9am - 7pm

Tomorrow

9am - 7pm

Saturday 24 April

9am - 7pm

Wednesday 28 April

9am - 7pm

Today

Closed

Tomorrow

Closed

Today

9am - 7pm

Tomorrow

9am - 7pm

Saturday 24 April

9am - 7pm

Wednesday 28 April

9am - 7pm

Today

8am - 10pm

Tomorrow

8am - 10pm

Saturday 24 April

8am - 10pm

Sunday 25 April

10am - 4pm

Monday 26 April

8am - 10pm

Tuesday 27 April

8am - 10pm

Wednesday 28 April

8am - 10pm

Today

9am - 5pm

Tomorrow

9am - 5pm

Saturday 24 April

9am - 5pm

Sunday 25 April

10am - 4pm

Tuesday 27 April

9am - 5pm

Wednesday 28 April

9am - 5pm

Today

8am - 3pm

Tomorrow

8am - 3pm

Saturday 24 April

8am - 3pm

Sunday 25 April

9:30am - 3pm

Tuesday 27 April

8am - 3pm

Wednesday 28 April

8am - 3pm

Today

6am - 10pm

Tomorrow

6am - 10pm

Saturday 24 April

6am - 10pm

Sunday 25 April

10am - 4pm

Monday 26 April

6am - 10pm

Tuesday 27 April

6am - 10pm

Wednesday 28 April

6am - 10pm

0800 323 4040

Today

9am - 5:30pm

Tomorrow

9am - 5:30pm

Saturday 24 April

9am - 5:30pm

Sunday 25 April

9am - 5:30pm

Wednesday 28 April

9am - 5:30pm

01704 333961

Today

9am - 6pm

Tomorrow

9am - 6pm

Saturday 24 April

9am - 6pm

Sunday 25 April

10am - 4pm

Tuesday 27 April

9am - 6pm

Wednesday 28 April

9am - 6pm