Orpington Extra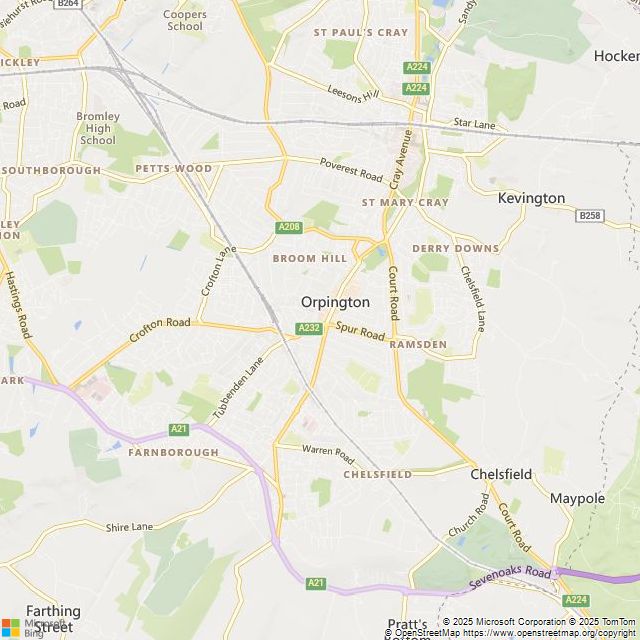 Get store directions
Address
9 Augustus Ln, Orpington, BR6 0NH
Telephone
0345 026 9567
Opening Times
Today

6am - midnight

Tomorrow

6am - midnight

Wednesday 18 December

6am - midnight

Thursday 19 December

6am - midnight

Friday 20 December

6am - midnight

Saturday 21 December

6am - midnight

Sunday 22 December

10am - 4pm
Christmas Eve

6am - 10pm

Tue 24 Dec

Christmas Day

Closed

Wed 25 Dec

Boxing Day

9am - 6pm

Thu 26 Dec

New Year's Eve

6am - 8pm

Tue 31 Dec

New Year's Day

9am - 6pm

Wed 1 Jan
Opening hours vary for some facilities and services. See below for more information.
General information
General

Other

Tesco Pay+
Krispy Kreme
Deposit Money
F&F Clothing
Costa Coffee
Electric Vehicle Charging Point
Coinstar
MoneyGram Money Transfer
Rug Doctor
Jet Wash
Food Collection
Sells Gift Cards
Self-Service Instant Photo Printing
Games

Disabled parking facilities are available.
Defibrillator available in store
Accessible changing room
Facilities are available for people with hearing impairments.
Fully accessible toilets are available within our store.
Our store has automatic doors fitted.
Staff disability equality training
Level access standard toilet
Seat available
Assistance dogs are welcome in our store.
Facilities
Today

8:30am - 6pm

Tomorrow

8:30am - 6pm

Wednesday 18 December

8:30am - 6pm

Thursday 19 December

8:30am - 6pm

Friday 20 December

8:30am - 6pm

Saturday 21 December

8:30am - 6pm

Sunday 22 December

10am - 4pm

Today

9am - 7pm

Tomorrow

9am - 7pm

Wednesday 18 December

9am - 7pm

Thursday 19 December

9am - 7pm

Friday 20 December

9am - 7pm

Saturday 21 December

9am - 7pm

Sunday 22 December

10am - 4pm

Today

8am - 10pm

Tomorrow

6:30am - 10pm

Wednesday 18 December

6:30am - 10pm

Thursday 19 December

6:30am - 10pm

Friday 20 December

6:30am - 10pm

Saturday 21 December

6:30am - 10pm

Sunday 22 December

10am - 4pm

02038 017650

Today

8am - 10pm

Tomorrow

8am - 10pm

Wednesday 18 December

8am - 10pm

Thursday 19 December

8am - 10pm

Friday 20 December

8am - 10pm

Saturday 21 December

8am - 10pm

Sunday 22 December

10am - 4pm

Today

9am - 8pm

Tomorrow

9am - 8pm

Wednesday 18 December

9am - 8pm

Thursday 19 December

9am - 8pm

Friday 20 December

9am - 8pm

Saturday 21 December

9am - 8pm

Sunday 22 December

10am - 4pm

Today

9am - 8pm

Tomorrow

9am - 8pm

Wednesday 18 December

9am - 8pm

Thursday 19 December

9am - 8pm

Friday 20 December

9am - 8pm

Saturday 21 December

9am - 6pm

Sunday 22 December

10:30am - 4pm

01689 834401

Today

9am - 8pm

Tomorrow

9am - 8pm

Wednesday 18 December

9am - 8pm

Thursday 19 December

9am - 8pm

Friday 20 December

9am - 7pm

Saturday 21 December

9am - 7pm

Sunday 22 December

10am - 4pm

01689669626