Swansea Llansamlet Extra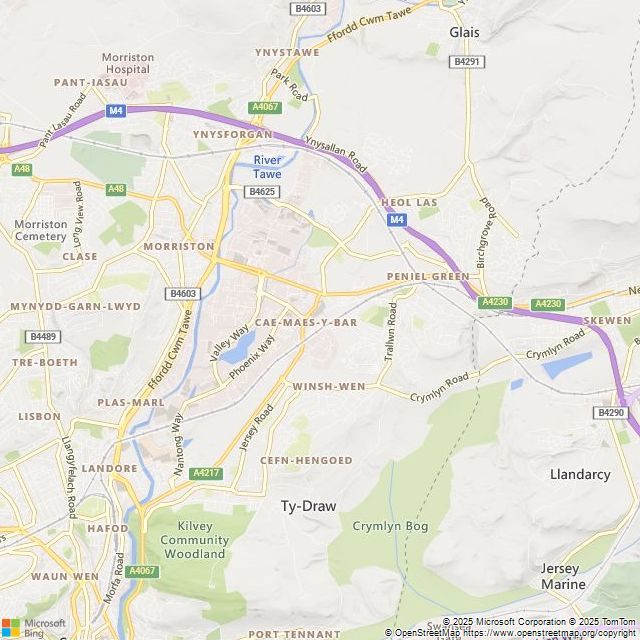 Get store directions
Address
Nantyffin Rd, Llansamlet, Swansea, SA7 9RD
Telephone
0345 677 9881
Opening Times
NHS, emergency service and care workers with a valid ID have priority access to our stores at any time. See below for priority hours for vulnerable and elderly customers.
Today

6am - midnight

Tomorrow

10am - 4pm

Monday 25 January

6am - midnight

Tuesday 26 January

6am - midnight

Wednesday 27 January

6am - midnight

Thursday 28 January

6am - midnight

Friday 29 January

6am - midnight
Opening hours vary for some facilities and services. See below for more information.
General information
World Food
Asian
Chicken
Free From
Afro Caribbean

General

Other

Timpson
Tesco Pay+
Photo Booth - Digital Passport Enabled
Krispy Kreme
Deposit Money
F&F Clothing
Costa Coffee
Electric Vehicle Charging Point
Coinstar
Rug Doctor
Jet Wash
Momentum 99
Food Collection
Sells Gift Cards
Car Wash
Games

Defibrillator available in store
Car parking available
Assistance dogs are welcome in our store.
Priority Hours
Today

No priority hours

Tomorrow

9am - 10am browsing only

Monday 25 January

No priority hours

Tuesday 26 January

No priority hours

Wednesday 27 January

9am - 10am

Thursday 28 January

No priority hours

Friday 29 January

No priority hours
Facilities
Today

24 hours

Tomorrow

24 hours

Monday 25 January

24 hours

Tuesday 26 January

24 hours

Wednesday 27 January

24 hours

Thursday 28 January

24 hours

Friday 29 January

24 hours
Today

8am - 3pm

Tomorrow

10:30am - 3pm

Monday 25 January

8am - 3pm

Tuesday 26 January

8am - 3pm

Wednesday 27 January

8am - 3pm

Thursday 28 January

8am - 3pm

Friday 29 January

8am - 3pm

Today

9am - 7pm

Tomorrow

10am - 4pm

Monday 25 January

9am - 7pm

Tuesday 26 January

9am - 7pm

Wednesday 27 January

9am - 7pm

Thursday 28 January

9am - 7pm

Friday 29 January

9am - 7pm

Today

Closed

Tomorrow

Closed

Wednesday 27 January

Closed

Thursday 28 January

Closed

01792 702004

Today

8am - 8pm

Tomorrow

10am - 4pm

Monday 25 January

8am - 8pm

Tuesday 26 January

8am - 8pm

Wednesday 27 January

8am - 8pm

Thursday 28 January

8am - 8pm

Friday 29 January

8am - 8pm

0800 323 4040

Today

9am - 6pm

Tomorrow

10am - 4pm

Monday 25 January

9am - 6pm

Tuesday 26 January

9am - 6pm

Wednesday 27 January

9am - 6pm

Thursday 28 January

9am - 6pm

Friday 29 January

9am - 6pm

Today

9am - 7pm

Tomorrow

10am - 4pm

Monday 25 January

9am - 7pm

Tuesday 26 January

9am - 7pm

Wednesday 27 January

9am - 7pm

Thursday 28 January

9am - 7pm

Friday 29 January

9am - 7pm

Today

8am - 10pm

Tomorrow

10am - 4pm

Monday 25 January

8am - 10pm

Tuesday 26 January

8am - 10pm

Wednesday 27 January

8am - 10pm

Thursday 28 January

8am - 10pm

Friday 29 January

8am - 10pm

Today

9am - 5:30pm

Tomorrow

9am - 5:30pm

Tuesday 26 January

9am - 5:30pm

Wednesday 27 January

9am - 5:30pm

Thursday 28 January

9am - 5:30pm

Friday 29 January

9am - 5:30pm

01792 957078

Today

8am - 10pm

Tomorrow

10am - 4pm

Monday 25 January

8am - 10pm

Tuesday 26 January

8am - 10pm

Wednesday 27 January

8am - 10pm

Thursday 28 January

8am - 10pm

Friday 29 January

8am - 10pm

Today

Closed

Tomorrow

Closed

Wednesday 27 January

Closed

Thursday 28 January

Closed

Today

9am - 5pm

Tomorrow

10am - 4pm

Monday 25 January

9am - 5pm

Tuesday 26 January

9am - 5pm

Wednesday 27 January

9am - 5pm

Thursday 28 January

9am - 5pm

Friday 29 January

9am - 5pm