Dunstable Extra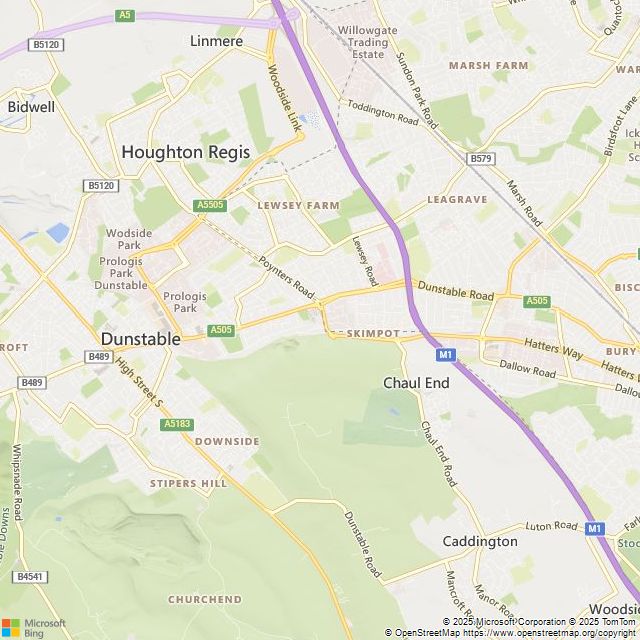 Get store directions
Address
Skimpot Rd, Dunstable, LU5 4JU
Telephone
0345 677 9226
Opening Times
NHS, emergency service and care workers with a valid ID have priority access to our stores at any time. See below for priority hours for vulnerable and elderly customers.
Today

6am - midnight

Tomorrow

10am - 4pm

Monday 26 October

6am - midnight

Tuesday 27 October

6am - midnight

Wednesday 28 October

6am - midnight

Thursday 29 October

6am - midnight

Friday 30 October

6am - midnight
Opening hours vary for some facilities and services. See below for more information.
General information
World Food
Halal
Asian
Polish
Free From
Afro Caribbean

General

Other

Timpson
Tesco Pay+
Photo Booth - Digital Passport Enabled
Krispy Kreme
Deposit Money
F&F Clothing
Coinstar
MoneyGram Money Transfer
Rug Doctor
Jet Wash
Momentum 99
Food Collection
Max Print Shop
Sells Gift Cards
Self-Service Instant Photo Printing
Games

Defibrillator available in store
Assistance dogs are welcome in our store.
Priority Hours
Today

No priority hours

Tomorrow

9am - 10am

Monday 26 October

No priority hours

Tuesday 27 October

No priority hours

Wednesday 28 October

9am - 10am

Thursday 29 October

No priority hours

Friday 30 October

No priority hours
Facilities
Today

6am - 10pm

Tomorrow

10am - 4pm

Monday 26 October

6am - 10pm

Tuesday 27 October

6am - 10pm

Wednesday 28 October

6am - 10pm

Thursday 29 October

6am - 10pm

Friday 30 October

6am - 10pm

0800 323 4040

Today

6am - midnight

Tomorrow

6am - midnight

Monday 26 October

6am - midnight

Tuesday 27 October

6am - midnight

Wednesday 28 October

6am - midnight

Thursday 29 October

6am - midnight

Friday 30 October

6am - midnight

Today

9am - 7pm

Tomorrow

10am - 4pm

Monday 26 October

9am - 7pm

Tuesday 27 October

9am - 7pm

Wednesday 28 October

9am - 7pm

Thursday 29 October

9am - 7pm

Friday 30 October

9am - 7pm

Today

9am - 5:30pm

Tomorrow

10am - 4pm

Monday 26 October

9am - 5:30pm

Tuesday 27 October

9am - 5:30pm

Wednesday 28 October

9am - 5:30pm

Thursday 29 October

9am - 5:30pm

Friday 30 October

9am - 5:30pm

01582 349422

Today

6am - midnight

Tomorrow

10am - 4pm

Monday 26 October

6am - midnight

Tuesday 27 October

6am - midnight

Wednesday 28 October

6am - midnight

Thursday 29 October

6am - midnight

Friday 30 October

6am - midnight

Today

8:30am - 5pm

Tomorrow

10am - 4pm

Monday 26 October

8:30am - 5pm

Tuesday 27 October

8:30am - 5pm

Wednesday 28 October

8:30am - 5pm

Thursday 29 October

8:30am - 5pm

Friday 30 October

8:30am - 5pm

Today

9am - 6pm

Tomorrow

10am - 4pm

Monday 26 October

9am - 6pm

Tuesday 27 October

9am - 6pm

Wednesday 28 October

9am - 6pm

Thursday 29 October

9am - 6pm

Friday 30 October

9am - 6pm

Today

10am - 6pm

Tomorrow

11am - 4pm

Monday 26 October

10am - 6pm

Tuesday 27 October

10am - 6pm

Wednesday 28 October

10am - 6pm

Thursday 29 October

10am - 6pm

Friday 30 October

10am - 6pm

01582 564478

Today

9am - 7pm

Tomorrow

10am - 4pm

Monday 26 October

9am - 7pm

Tuesday 27 October

9am - 7pm

Wednesday 28 October

9am - 7pm

Thursday 29 October

9am - 7pm

Friday 30 October

9am - 7pm

Today

Closed

Tomorrow

Closed

Wednesday 28 October

Closed

Thursday 29 October

Closed

Today

9am - 5pm

Tomorrow

10am - 4pm

Monday 26 October

9am - 5pm

Tuesday 27 October

9am - 5pm

Wednesday 28 October

9am - 5pm

Thursday 29 October

9am - 5pm

Friday 30 October

9am - 5pm