Altrincham Extra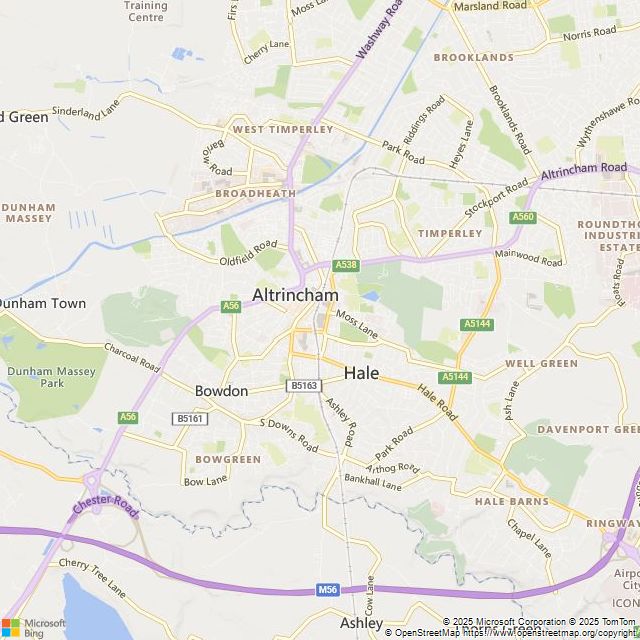 Get store directions
Address
Manor Rd, Altrincham, WA15 9QT
Telephone
0345 677 9768
Opening Times
Today

24 hours

Tomorrow

24 hours

Sunday 24 February

10am - 4pm

Monday 25 February

24 hours

Tuesday 26 February

24 hours

Wednesday 27 February

24 hours

Thursday 28 February

24 hours
Opening hours vary for some facilities and services. See below for more information.
General information
Meat
World Food
Kosher
Afro Caribbean
Pizza
Asian
Polish
Fish
Greek
Chicken
Free From

General

Other

Tesco Pay+
Krispy Kreme
Community space
Coinstar
Rug Doctor
Sells Gift Cards
Games
24 hours
Deposit Money
F&F Clothing
Max Print Kiosk
MoneyGram Money Transfer
Jet Wash

Disabled parking facilities are available.
Facilities are available for people who are visually impaired. Including large print and braille.
Accessible baby changing facilities are available in-store.
Fully accessible toilets are available within our store.
Facilities are available for people with mobility impairment.
An induction loop has been installed in our store.
Defibrillator available in store
Facilities are available for people with hearing impairments.
Wheelchair assistance is possible in our store.
Sign language service is available in store.
Non assisted wheelchair access is possible.
Assistance dogs are welcome in our store.
Facilities
Today

8am - 6pm

Tomorrow

8am - 6pm

Sunday 24 February

9:30am - 4pm

Monday 25 February

8am - 6pm

Tuesday 26 February

8am - 6pm

Wednesday 27 February

8am - 6pm

Thursday 28 February

8am - 6pm

Today

8:30am - 5:30pm

Tomorrow

8:30am - 5:30pm

Sunday 24 February

9:30am - 4pm

Monday 25 February

8:30am - 5:30pm

Tuesday 26 February

8:30am - 5:30pm

Wednesday 27 February

8:30am - 5:30pm

Thursday 28 February

8:30am - 5:30pm

Today

8am - 8pm

Tomorrow

8am - 8pm

Sunday 24 February

10am - 4pm

Monday 25 February

8am - 8pm

Tuesday 26 February

8am - 8pm

Wednesday 27 February

8am - 8pm

Thursday 28 February

8am - 8pm

01616 021052

Today

8am - 10pm

Tomorrow

8am - 10pm

Sunday 24 February

10am - 4pm

Monday 25 February

8am - 10pm

Tuesday 26 February

8am - 10pm

Wednesday 27 February

8am - 10pm

Thursday 28 February

8am - 10pm

Today

9am - 8pm

Tomorrow

9am - 8pm

Sunday 24 February

10am - 4pm

Monday 25 February

9am - 8pm

Tuesday 26 February

9am - 8pm

Wednesday 27 February

9am - 8pm

Thursday 28 February

9am - 8pm

Today

9am - 8pm

Tomorrow

9am - 6pm

Sunday 24 February

10:30am - 4pm

Monday 25 February

9am - 8pm

Tuesday 26 February

9am - 8pm

Wednesday 27 February

9am - 8pm

Thursday 28 February

9am - 8pm

01619 281444

Today

9am - 7pm

Tomorrow

9am - 7pm

Sunday 24 February

10am - 4pm

Monday 25 February

9am - 8pm

Tuesday 26 February

9am - 8pm

Wednesday 27 February

9am - 8pm

Thursday 28 February

9am - 8pm

01615073205