Catalogue Number: ME5-87M4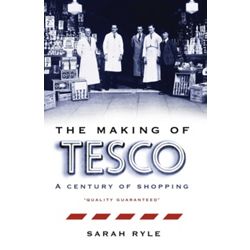 Author: Sarah Ryle
Format:Trade Paperback
Published:28 March 2013
ISBN:9780593072387
More product information
Sorry, there are currently no sellers for this product.
back to top
Synopsis
From one man's Hackney market stall to a company serving fifty million customers in thirteen countries every week, this is the extraordinary story of one of Britain's most remarkable companies. Related by those who themselves featured in it – Tesco's own employees – it presents a fascinating social history as well as an epic business venture. Drawn from hundreds of hours of interviews with Tesco staff, collected by National Life Stories at the British Library, these personal accounts from across the ranks and decades are frank, insightful, sometimes funny and, above all, very human. How, then, did Tesco grow from Jack Cohen's barrow in Hackney to the hypermarkets in Hungary, the neighbourhood stores in Nevada and a home-delivery service serving customers from Cheshire to the Czech Republic? Why and how did Tesco survive and (mostly) thrive where other British companies stalled? And what impact has Tesco's success had on its employees and consumers? Here is Tesco's authentic story, carefully researched and engagingly written by Sarah Ryle, told for the first time by the people at the very heart of the business.
back to top
Author's Biography
Sarah Ryle works in Tesco's Corporate Affairs team. She read history at Oxford University and trained as a journalist on a local evening newspaper in Bath. She was a business and economics reporter at the Guardian for two years, and retail correspondent and consumer affairs correspondent at the Observer for eight years. She lives in London.
back to top
Back to top