Catalogue Number: 5WQ-3AW3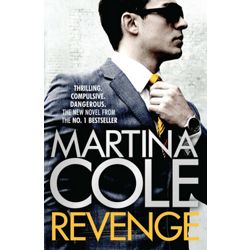 Author: Martina Cole
Format:Hardback
Publisher:Headline Publishing Group
Published:24 October 2013
ISBN:9780755375615
More product information
Sorry, there are currently no sellers for this product.
Product description
Total Pages: 560
Genre: Thriller suspense
Read more
back to top
Synopsis
Thrilling. Compulsive. Dangerous. REVENGE is the brand new novel from the phenomenal No. 1 bestselling author Martina Cole. BE SURE YOUR SINS WILL FIND YOU OUT. Michael Flynn is untouchable in a world of power, money and violence. He fights for what he wants and he takes it, whatever the cost. He learns the rules of the Life from the best and when his mentor, legendary Face Patrick Costello, is taken out, no one questions that Michael Flynn is his natural successor. For Michael, loyalty - and crime - pay. Michael rises to heights beyond anything the criminal underworld has seen. He owns everyone and he rules his empire with an even but fierce hand. No one would dare challenge him. Then the unthinkable happens. Perhaps Michael Flynn is not so untouchable after all, and he must learn that...WITHOUT THE SHEDDING OF BLOOD THERE CAN BE NO FORGIVENESS OF SINS.
back to top
Author's Biography
Martina Cole's most recent novel, THE LIFE, was a No. 1 bestseller in hardback and paperback and is one in a long line of No. 1 bestselling and phenomenally successful novels she has to her name. She continues to smash sales records with each of her books, which have sold in excess of eleven million copies in total. REVENGE is her twentieth novel.
back to top
Back to top