Catalogue Number: 2NN-22L3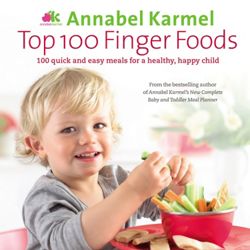 Author: Annabel Karmel
Format:Hardback
Publisher:Ebury Press
Published:05 March 2009
ISBN:9780091925079
More product information
Sorry, there are currently no sellers for this product.
Product description
Total Pages: 160
Genre: General cookery & recipes
Read more
back to top
Synopsis
By the age of nine months, many babies want to start feeding themselves but can't yet handle a spoon, which is when finger foods come into their own. They're also great to offer to toddlers who are prone to go into 'meltdown' just before dinner. This essential collection of tempting, nutritious finger foods features 100 quick and easy recipes, including fresh fruit ice lollies - perfect for soothing sore gums - goujons of fish and raw vegetables with dip, that will not only introduce your baby to new textures and tastes but will make for a healthy, happy and contented child.
back to top
Author's Biography
Annabel Karmel is a busy working mother with three children. She has written 15 bestselling books, including the New Complete Baby and Toddler Meal Planner. She is a celebrity chef on BBCi, the BBC website, has contributed to the Mothercare.com site, and has her own website, www.annabelkarmel.com. She also writes for national newspapers and magazines, including The Times, Mail and Sunday Mirror, and appears frequently on radio and TV as the UK's expert on children's nutritional issues. Recently, she completed a series for Channel 4's Richard and Judy Show, where she travelled around the UK solving the problems of fussy eaters, and has launched a 'Make Your Own' range of equipment and foods with Boots to help mothers prepare fresh baby food, as well as her own 'Eat Fussy' chilled ready meals.
back to top
Back to top