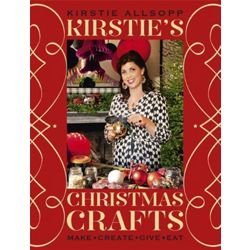 Author: Kirstie Allsopp
Format:Hardback
Publisher:Hodder & Stoughton General Division
Published:26 September 2013
ISBN:9781444780758
More product information
Sorry, there are currently no sellers for this product.
Product description
Total Pages: 256
Genre: Handicrafts, decorative arts & crafts
Read more
back to top
Synopsis
Hand-make your perfect Christmas with Kirstie Nothing shows how much you love someone more than a handmade gift, card or decoration. And the pleasure is just as much in the planning and making as it is in giving and receiving. In this ultimate celebration of Christmas, Kirstie has brought together over 50 of her favourite festive projects to make, bake and create.
back to top
Author's Biography
Kirstie Allsopp is the star of Channel 4's Kirstie's Homemade Home, Kirstie's Handmade Britain and Kirstie's Vintage Home, and the co-presenter, with Phil Spencer, of Location, Location, Location and Relocation, Relocation. Kirstie lives in Devon and West London with her partner and their two sons and two stepsons.
back to top
Back to top