Catalogue Number: QJ2-8VN8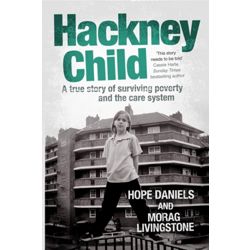 Author: Hope Daniels,Morag Livingstone
Format:Paperback
Publisher:Simon & Schuster Ltd
Published:30 January 2014
ISBN:9781471129834
More product information
Sorry, there are currently no sellers for this product.
Product description
Total Pages: 272
Genre: Autobiography: general
Secondary Genre: Memoirs, Coping with personal problems
Read more
back to top
Synopsis
At the age of nine, Hope Daniels walked into Stoke Newington Police Station with her little brothers and asked to be taken into care. Home life was intolerable: both of Hope's parents were alcoholics and her mum was a prostitute. The year was 1983. As London emerged into a new era of wealth and opportunity, the Daniels children lived in desperate poverty, neglected and barely nourished. Hounded by vigilante neighbours and vulnerable to the drunken behaviour of her parents' friends, Hope had to draw on her inner strength. Hackney Child is Hope's gripping story of physical and emotional survival - and the lifeline given to her by the support of professionals working in the care system. Despite all the challenges she faced, Hope never lost compassion for her parents, particularly her alcoholic father. Her experiences make essential reading and show that, with the right help, the least fortunate children have the potential not only to recover but to thrive.
back to top
Author's Biography
Hope Daniels was the child of alcoholic parents. She spent most of her childhood in care, where her experience was broadly positive. At the age of thirty, she felt ready to deal with the demons of her childhood and engaged with intensive therapy, where she sought recovery for a dependency issue. She is very proud to refer to herself as a 'care leaver in recovery'. Under her real name, Jenny Molloy, she is a guest lecturer, has been central to the development of the 'Care Leavers' Charter' - founded in October 2012, and is called on by government bodies to advise on the care and fostering of children. Her mission is to reach out to care leavers and associated professionals to inspire hope and to remind us that all care leavers have ability Morag Livingstone is an experienced documentary photographer and film maker. She has an Honours Degree in Business Studies and 15 years' experience in the corporate sector. She went on to attain a Masters in Photojournalism and Documentary Photography from the London University of the Arts, where she is now a guest lecturer. When not writing, she makes films across continents that bring stories of poverty, low income and young peoples' mental health to life for the development sector. Like her namesake, the explorer Dr Livingstone, Morag has lived in Zambia. She is related to Dr Livingstone's wife, Mary Moffat, rather than the man himself, but she is still looking for that elusive link.
back to top
Back to top