Catalogue Number: KV7-CE8H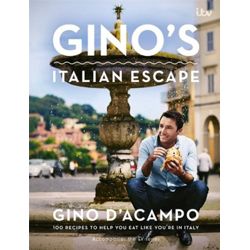 Author: Gino D'Acampo
Format:Hardback
Publisher:Hodder & Stoughton General Division
Published:14 September 2013
ISBN:9781444751727
More product information
Sorry, there are currently no sellers for this product.
Product description
Total Pages: 288
Genre: National & regional cuisine
Secondary Genre: TV celebrity chef cookbooks
Illustrations: illustrations
Read more
back to top
Synopsis
Discover the secrets of real Italian food with Gino D'Acampo as he captures the flavours, smells and tastes of his homeland in over 100 deliciously simple recipes. From much-loved pizza, pasta and antipasti dishes, to Gino's classics with a twist such as Honey & Rosemary Lamb Cutlets and Limoncello Mousse, this book is packed with mouth-watering favourites that will soon have you cooking and eating like a true Italian. Accompanying a major ITV series, Gino's Italian Escape is a celebration of the very best Italian food from one of the country's favourite exports.
back to top
Author's Biography
Born in Torre del Greco, Naples, in southern Italy, Gino inherited his grandfather's love of cooking and studied at the Luigi de Medici Catering College. Gino appears regularly on TV, most recently in Let's Do Lunch with Gino and Mel, and as a resident chef on ITV's This Morning.
back to top
Back to top