Catalogue Number: Y4H-9XH4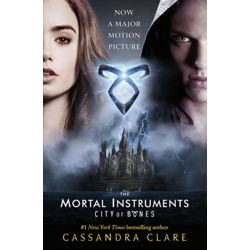 Author: Cassandra Clare
Format:Paperback
Publisher:Walker Books Ltd
Published:09 July 2013
ISBN:9781406346428
More product information
Sorry, there are currently no sellers for this product.
Product description
Edition: Movie tie-in
Total Pages: 448
Genre: Fantasy & magical realism (Children's Teenage)
Secondary Genre: Romance & relationships stories (Children's Teenage)
Read more
back to top
Synopsis
This is the movie tie-in of book one in the international number-one bestselling series The Mortal Instruments. Clary Fray is seeing things: vampires in Brooklyn and werewolves in Manhattan. Irresistibly drawn towards a group of sexy demon hunters, Clary encounters the dark side of New York City - and the dangers of forbidden love. Movie release scheduled for August 2013. Cast members include: Lily Collins (Mirror Mirror) as Clary Fray, Jamie Campbell Bower (The Twilight Saga) as Jace Wayland, Robert Sheehan (Misfits) as Simon Lewis, Godfrey Gao as Magnus Bane, Jemima West as Isabelle Lightwood, Lena Headey (Game of Thrones) as Jocelyn Fray and Jared Harris (Sherlock Holmes: A Game of Shadows) as Hodge Starkweather. Tie-in to be supported by a nationwide marketing and publicity campaign. The Mortal Instruments series has over four million books in print. It has been sold in more than thirty countries and has appeared internationally on bestseller lists, including in the UK, USA, Germany, Ireland, Australia, New Zealand and Canada. Backlist: City of Ashes (9781406307634), City of Glass (9781406307641), City of Fallen Angels (9781406330335) and City of Lost Souls (9781406337600), and The Infernal Devices series (Clockwork Angel, 9781406330342, and, Clockwork Prince, 9781406321333).
back to top
Author's Biography
Cassandra Clare lives in an old Victorian house in Massachusetts, USA, with her husband. Born to American parents in Tehran, Iran, she spent much of her childhood travelling the world with her family. She is the author of the New York Times number-one bestselling series The Infernal Devices.
back to top
Back to top