Catalogue Number: M87-PY76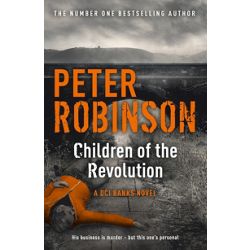 Author: Peter Robinson
Format:Paperback
Publisher:Hodder & Stoughton General Division
Published:16 January 2014
ISBN:9781444704938
More product information
Sorry, there are currently no sellers for this product.
Product description
Total Pages: 400
Genre: Crime & mystery
Read more
back to top
Synopsis
Ex-college lecturer Gavin Miller is found dead; his distorted body strewn across a disused railway track near his home. There's no sign of a struggle, and no concrete evidence except for one distinguishing package: GBP5,000 of cash, tucked inside the man's pocket. But when DCI Banks delves into Miller's past, he uncovers a troubled existence tarnished by accusations of abuse and misconduct which throws up an array of puzzling questions. What really occurred at the college where the victim used to teach? How was he embroiled in political activism at Essex University, over forty years ago? And what links him to an upstanding pillar of the community, who also harbours a dark secret from her past? One thing is clear: someone will stop at nothing - even murder - to prevent Banks from discovering the truth ...
back to top
Author's Biography
Peter Robinson grew up in Yorkshire, and now divides his time between Richmond and Canada. There are twenty-two books in the bestselling DCI Banks series - the critically acclaimed crime novels have won numerous awards in Britain, the United States, Canada and Europe, and are published in translation all over the world. Peter Robinson's DCI Banks is now a major ITV1 drama by Left Bank productions. Stephen Tompkinson (Wild at Heart, Ballykissangel) plays Inspector Banks, and Andrea Lowe (The Bill, Murphy's Law) plays DI Annie Cabbot. The first series aired in Autumn 2011 with an adaptation of FRIEND OF THE DEVIL, the second in Autumn 2012, and the third aired in February 2014. Peter's recent standalone novel BEFORE THE POISON won the IMBA's 2013 Dilys Award as well as the 2012 Arthur Ellis Award for Best Novel by the Crime Writers of Canada. This was Peter's sixth Arthur Ellis award. Peter keeps a website at www.inspectorbanks.com.
back to top
Back to top